Our friend Vincent Michel, professor of archaeology at the University of Poitiers, sends us a summary of the excavation campaign at Ramat al-Khalil (Mambré Oak) Hebron.
---
The 6th excavation campaign of the Franco-Palestinian mission at Ramat el-Khalil (Oak of Mambré) in Hebron took place from 18 June to 21 July 2023 under the direction of Vincent Michel, within the framework of an agreement with the Ministry of Antiquities and Tourism, under the aegis of the HeRMA laboratory of the University of Poitiers, financed by the excavation commission of the French Ministry of Foreign Affairs and with the support of the Consulate General of France in Jerusalem.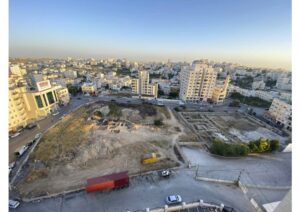 The mission brought together around ten French archaeologists, topographers, numismatists, ceramologists, art historians and a Palestinian team. After re-studying the "sacred enclosure" (2016-2018), which testifies to the uninterrupted veneration of the biblical oak tree of Mambré, the mission then continued its work by excavating a plot of land to the east of the enclosure, free of any modern buildings.
The year was marked by some excellent discoveries from the Byzantine period (5th-7th century): the existence of a large building with a centred plan and four exedras, which probably served a baptismal function; although nothing remains of either the basin or its location in the centre of the building, it must have been supplied by a deep cistern dug nearby.
All that remains of the floor are scattered mosaic tesserae.
This area was extensively and densely reoccupied in the medieval period with a series of rooms, one of which still has a rare painted wall decoration and another a basin with a delicately plastered floor.
Between the enclosure and these buildings, a cistern dug in ancient times has been transformed into a rare columbarium, the first to be discovered in Hebron !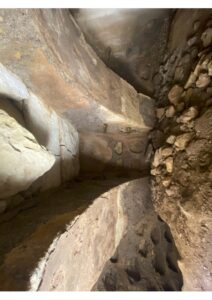 In addition to the excavation, the mission was pleased to organise a heritage protection awareness campaign for children in the Old City of Hebron and a 4-day workshop on combating the illicit trafficking of archaeological goods in Bethlehem, with the aim of strengthening bilateral Franco-Palestinian coordination with an interdisciplinary and cross-disciplinary approach. The French delegation, comprising police officer Stéphane Blumel (OCBC), customs officer Frédéric Pons (DGDDI) and magistrate Sébastien de la Touanne (PNF), rounded off the workshop with a visit to the Old City of Jerusalem and the École Biblique with Jean-Jacques Pérennès.