A New Website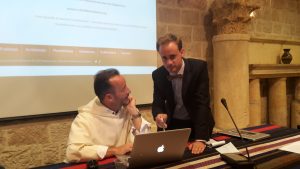 You are on the new website of the École Biblique et Archéologique, it was presented last Friday April 28th to all the lecturers, researchers and students in the Lecture Hall of the École and has just been put online. Welcome ! You may have known the previous site, you know then there was a real urgency to recast it all. A long-standing project that has been resumed since December 2016 with the creation of a charge of communication officer, here in Jerusalem. This new website intends to be more intuitive, more oriented towards the essential elements of the École (vitality of research, proposals for Studies, etc.), and above all more complete. Do not hesitate, take a walk!

The Nouvelles de Jérusalem, New Presentation
For the past month, Friends, supporters, lecturers and residents of the École have been able to receive the first re-designated issue of the Nouvelles de Jérusalem, our bilingual newsletter which will now be sent two to three times a year. Directly online here. The Nouvelles gives an overview of the work in progress in exegesis as in archeology, here in Jerusalem. Here is the first color number online. The articles alternate French and English.
The Lettre de l'École biblique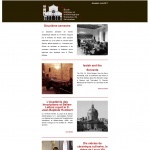 Since January 2017, Friends, supporters, institutions of the Holy Land, teachers and residents of the École have been able to receive monthly the Lettre of the École biblique. E-mailed every month, it is a new way of sending information by e-mail, you will find summaries and links to the latest articles published on the website, the dates and titles of the next conferences of the École, Last great announcements and, as a bonus, a marvel of our photographic library or the last nice pictures taken here in the Middle East.

To receive this Lettre : communication@ebaf.edu
New Booklet
Since February 2017, the École has been proud to send a new brochure presenting the École to all major Dominican institutions and exegesis from Europe, the United States and Canada. It summarizes the main diplomas awarded, the admission conditions, the advantages of the field study, the various activities proposed within the École (field visits, summer sessions, conferences, publications, Hosting of researchers, etc.) and the new projects of our institution.