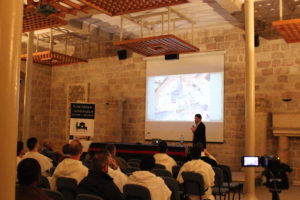 Last week, in January, a dozen Dominicans came from all around the world to participate to the annual meeting around their Bible researches at the École biblique. They presented their subjects, and worked also thanks to the Bible in Its Traditions website during workshops, and had a Lecture and a guided tour of Megiddo, by Matthew J. Adams, the Director of Albright Institute. 
Interview – Jordan Schmidt:
"My name is Jordan Schmidt. I am a friar from the Province of Saint Joseph, the Eastern Province, in the United-States. I just finished my doctorate. I defended it last month and I am going to begin teaching at our House of Studies, the Faculty of the Immaculate Conception, in Washington DC. My doctorate was on the Book of Sirach -creation and cultus-, from the Catholic University of America, and I have been working on this for four years, nice to complete it !
I studied as a diocesan seminarian, for a few years, and that was the first time I studied the Scriptures. And then I realized that for the diocesan seminary and for the diocesan priests in the USA, that's my own diocese, it would not possible to study very much in this advanced way; so I began to realize I had more love for the intellectual life and devotion to intellectual studies, and I realized that's what I wanted to do, at a higher level.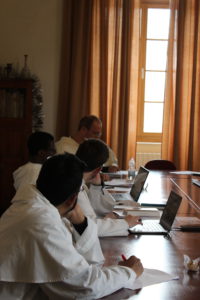 Is it your first time in École biblique ?
No, it was in 2014, when the master invited the provincials and the regents of study and anyone that they found who may be interested in doing Scripture studies take here, they had a meeting about the future of the École, and at that meeting we had the idea to have this colloquium every year. It is an opportunity for us Dominicans who are a little bit younger, beginning in Scriptures, at our early stage to develop our own style of exegesis. It is a good opportunity for me to have more contact with people who have different approaches, because there are differences in the American approach or the continental European approach. That is a way for us to learn from one another: I learn a lot when I come, and to think more about not necessarily concrete method, but a larger approach.
What is the schedule of this session?
This year, one component is to present research, that we have done in the past: it gives an opportunity for bigger projects that we might have completed already, thesis or something like that. Another component is to do something new, so this year some people have presented on the theme which is "Biblical theology" : is it possible, not possible, what is it, what does it mean ? And the third component is the working together on a passage : this year it is Revelation, chapter 4. We use the Bible in Its Traditions website as a interface, so we have means to guide our conversation and it gives also an opportunity to exegesis together. Just now, were talking about the different translations of Revelation 4, and a comparison of versions. And then we can also talk about the ways the Revelation is used for theology, and art and other things.
And tomorrow, Megiddo ?
Yes ! And that's actually the fourth component. To come to Jerusalem, obviously especially for me, from the United States, it makes no sense to stay only here inside, so this is a great ressource for a lot of us to be able to visit biblical sites that have significance. Megiddo was one which is very good for both, Old Testament and New Testament, and we have a good fortune with Matthew J. Adams, the Director of Albright Institute, giving the presentation this evening and guiding us on a tour tomorrow."
Interviewed by Aziliz Le Roux.
---
Discover also :
The interview of Matthew Adams, the Director of Albright Institute, who gave a Lecture and guided friars on a tour at Megiddo.