Comparable to Gaudí's masterpiece, the Sagrada Familia, which is continually under construction, The Bible In Its Traditions is a project in constant evolution. Its latest development is the creation of a portal, refined and intuitive, bringing together the different projects of The Bible In Its Traditions programme.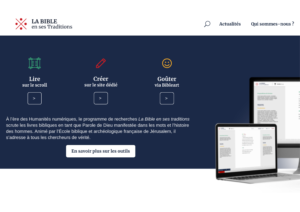 On this new portal, you can access
– the collaborative platform of The Bible In Its Traditions, allowing you to propose translations and notes to biblical texts;
– the scroll interface, focusing on the history of the transmission of the Scriptures;
– the Bibleart application, available on mobile and tablet, presenting a new translation of the Bible enriched with historical, religious and artistic references.
You can also find the latest news from The Bible In Its Traditions and its collaborators, as well as the archives of the former blog and a timeline tracing the history of the project.
For more information, please visit the new programme portal.