The relationship between Jerusalem and Vincent Lemire has been going on since 1995, but this summer it took a special turn as his term as director of the CRFJ came to an end.
He will return to his position as professor at the Université Paris-Est / Gustave Eiffel in September. Before that, he has agreed to talk to us about his life here: his discovery of this country, his student years, his successes and publications, and his term of office at the CRFJ.
---
His first visit to this very special city was in 1995. An undeniable bond was formed. He returned a second time for his Masters 2 in History and then for his thesis on the history of the cities of Jaffa and Tel Aviv. Step by step, through meetings and discussions, his subject evolved, until he arrived in Jerusalem. As a doctoral student at the CRFJ, with which the Ecole Biblique has a partnership, he obtained a student card and plunged into the bowels of the library, much to his delight!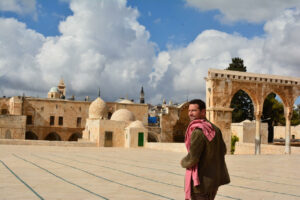 "At the start of this chapter of my life, I'm very intimidated, I have very little command of languages and I don't know how to find an angle of attack. I'm reticent about the idea of working on Jerusalem. However, my supervisor encouraged me. For the first few months I worked on the city's municipal archives. I kept the religious and diplomatic archives at arm's length. I'm working particularly on the Ottoman archives, which are extremely difficult to locate but very rich."
Slowly but surely, as he made discoveries, Vincent realised just how important drinking water was to the city. In fact, water management has always been a key issue, as evidenced by the hydraulic networks and infrastructures that have been in place since ancient times. In 2010, he will publish his thesis in environmental history, "La soif de Jérusalem. Essai d'hydro-histoire (1860-1940)".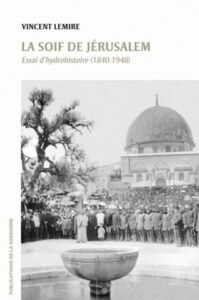 Moving back and forth between Jerusalem and Paris, his life took a new turn in 2012, when he became a researcher assigned to the CRFJ for two years.
When asked how he feels about Jerusalem, the historian has a rather surprising answer: "I have no personal or family ties to Jerusalem. Initially, I didn't even feel any particular affinity with it. I have an ambivalent relationship with this city. If opportunities to come here don't present themselves, I don't necessarily seek them out.
However, I always come back because, intellectually, this field of research fascinates me and the level of play is extremely high. It's a real methodological challenge for me, an intense challenge. I feel the need to be challenged by this terrain, which is so difficult to approach.
I realise the effects when I return to France after an assignment and feel a disconcerting sense of ease, a bit like a runner who has just completed a marathon at an altitude of 2,000 metres and is coming back down to a normal altitude. Jerusalem is the toughest training ground I know.
I think I've developed a lot of intuitive skills here, and that's what keeps me coming back every time. In fact, I like this environment because it forces me to get out of my comfort zone."
The relationships of trust that he creates here, like the one with the brothers at the Ecole Biblique, will enable him to evolve from a solitary to a collective work, in order to always amplify the global approach of his research.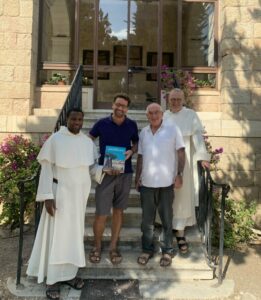 When it comes to taking stock, and what we might call his "proudest achievements", Vincent mentions two things: the logistical and material changes he has made as Director of the CRFJ to provide a better welcome and a better quality of life for all students: "I drew inspiration from the EBAF to put students at the heart of the life of the institution. Despite the many obstacles, I'm proud to have brought this project to a successful conclusion.

His second success story concerns his work on the Quartier Maghrébin.
Some of this work began within the walls of the Dominicans, since it was with Friar Jean-Michel de Tarragon that he discovered, in certain photos, an area about which he knew nothing and which was rarely mentioned, even though it was located right in front of the Wailing Wall and the Esplanade of the Mosques.
Faced with this huge "memory gap", he launched an investigation and succeeded in collecting testimonies from people who used to live in the area and who were evicted in 1967 in order to enlarge the prayer esplanade at the foot of the Kotel. "I discovered that the obliteration linked to the history of this district is staggering. I plunged into a worldwide investigation, because the archives of this district are scattered everywhere: Rabat, Algiers, Geneva, Istanbul…".
He will publish his book "Au pied du Mur. Life and Death of Jerusalem's Maghreb Quarter (1187-1967)" in 2022, a book republished this year in English by Stanford University and currently being translated into Hebrew and Arabic. To illustrate his work, he is developing a 3D application that reconstructs the whole of the Maghreb quarter and allows you to walk through it as if you were actually there!
"Through this 3D application, but also through the "History of Jerusalem" comic strip, I'm experiencing one of the components of the job of teacher-researcher, that of bringing history to a wide audience, through different channels".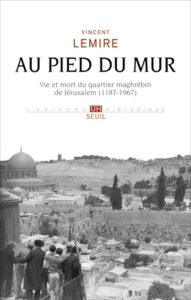 Now that his term as director is coming to an end, it's time to return to university life as a history professor: "I'm delighted to be returning to Paris-Est / Gustave Eiffel.
You have to know how to give energy to the institutions that trained you, and try to give back a little of the richness of what you have received.
It was at this university that I took my first steps as a temporary lecturer in 2004 and then as a senior lecturer in 2008, with a close-knit, young and open-minded team. It's a great place to land. It's also a welcome return to earth after those intense years spent in Jerusalem.