October 2022. The convent launches major works to welcome students and researchers for the 2023-2024 academic year in a modern structure faithful to the École's historic buildings, which date back to 1891.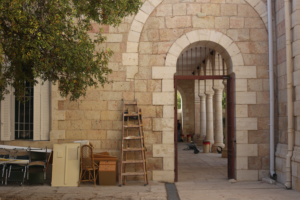 October 2023. Challenge met. The premises, now state-of-the-art, are ready to welcome students.
The deadlines were met thanks to the unfailing commitment of the house's administrator and bursar, Brother Stanislaw Gurgul. From the moment the contract was signed with the architect Gerhard Riedwyl and the builder George Ballout, Brother Stanislaw Gurgul monitored the work day by day.
In the bedrooms, small-paned windows were chosen to respect the original style, while in the conference room, architect Gerhard Riedwyl reinforced the original vaults with welded iron structures. Invisible to the naked eye, this reinforcement was necessary to integrate the underfloor heating.
The main classroom is equipped with a microphone and a camera to optimise interactivity with those who would follow the lessons at a distance. As Brother Stanislaw can testify: there's no need to move the microphone, it even picks up discussions from the rows!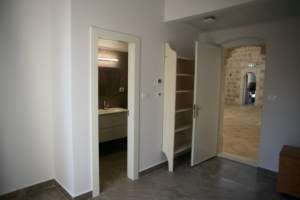 Air-conditioning and ventilation, individual bathrooms, new furniture, underfloor heating on the first floor… everything is in place to make it easier for everyone to study and integrate.
Brother Stanislaw can't wait to catch a lesson in the main classroom, now equipped with a touch-sensitive board and video projector…
The inauguration of the new buildings will take place on 11 November, in the presence of His Excellency the Consul General Nicolas Kassiadines and the new director, Brother Olivier Poquillon (by invitation only).