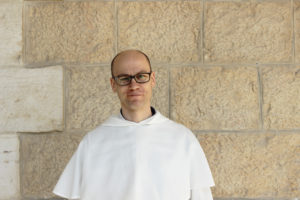 As it already became a custom, at the beginning of the year, a group of young Dominican biblical scholars met at the École biblique, this year for the sixth time. The participants came from fourteen different Provinces, representing eleven nationalities and four continents.
The program consisted of presentations of personal research (papers and discussions) and a workshop on a biblical pericope. The papers were very diverse, in choosing their subjects (Deutero-Isaiah, Jeremiah, Psalms, Gospels, Revelation, New Testament Christology) and in their approach as well.
One afternoon was given to a workshop on Judges 19, using the site of the BEST project. Contrary to previous years, when the workshops were moderated by the organizing committee, it has been Bruno Clifton's responsibility as a part of his dissertation touched on this pericope. The use of the BEST project's approach (or rather a matrix of approaches) allowed us to work together and exchange ideas and resulted in a symphony of readings, not only one "correct" reading.
Not to limit ourselves to the classroom only, we went for a field trip to Tel Azekah. We were guided by Josef Briffa, SJ, who is an area supervisor in Lautenschläger Expedition to Azekah (among others responsibilities). The possibility to visit a site with someone who digs it is always a special privilege and an outstanding opportunity to know the site through the excavator's eyes.
The symposium was organized by Olivier Catel, Christopher Brannan, and I.
Jakub Bluj, OP
"I am brother Augustinus Aerssens. I come from the Province of the Netherlands and am in the third year of simple vows. At the moment I am finishing my MA in Theology at Fribourg University (Switzerland) and I have started my MA in Hebrew and Aramaic Studies at Leiden University (the Netherlands). I came to the École Biblique for the 'Bible in Jerusalem 2020' conference because I am preparing for a further specialisation in Biblical Studies and the École Biblique is the place to be. I am attending the 'Bible in Jerusalem', for the second time and so far I have enormously appreciated the exchange with other Dominican Biblical scholars. I think it is a unique concept for Dominicans from all over the world from within one particular theological and academic discipline to unite, present their research to each other, and build up a Dominican scholarly network. The participation in the B.E.S.T. (Bible en ses traditions) project has been wonderful as well, because it requires brothers to sit together and work on a common project, thereby exchanging ideas and expertise and transforming them into one final product that will in the future hopefully help many, both in preaching and in research. It could not be more Dominican!"

Augustinus Aerssens, OP

"My name is Luke K. Bett, OP from the Dominican Vicariate of Eastern Africa, Kenya. Currently I live in Santa Sabina Convent in Rome where I am finishing my studies for a Sacred Scriptures License at the Biblical Institute. My thesis is a narrative analysis of Jn 1:45-51, Seeing as a consequence of Believing in the call of Nathanael.
I am here to participate in this year's 'Bible in Jerusalem' conference which is first and foremost a gathering of brothers having a common interest – study of the Holy Scriptures. In BIJ were share fraternally the fruits of study, challenge and encourage each other and hence grow intellectually as a brotherhood. The BIJ grants a noble avenue not only to know brothers from different parts of the world but also to savor the diverse approaches and methods of studying the Scriptures, to learn from each other, and to encourage one another.
This year's BIJ was well organized with interesting presentations and an archaeological visit that granted the opportunity to learn new things."

Luke Bett, OP