This year, the library team has grown in a unique way; after decades of being run by three people (the librarian and two volunteers), the School library is now home to a team of seven people: the librarian and six assistants.
The latest addition is Amir Abdallah, an Arabic-speaking Palestinian who has been employed full time since the beginning of the academic year. The team is also composed of Gaia Cecconi, an Italian archaeologist student-volunteer; Marianne Roman, an Israeli of Hungarian origin, who already has a long experience as a librarian and works part-time; Emily Johnson, a Canadian volunteer who is full-time in the library; Evelyn Ishiida, an Israeli of Russian origin, also full-time; Isabelle Dauphin, a French DCC volunteer who is also a career librarian; and finally Bernard Ntamak Songué, our librarian, of Cameroonian nationality.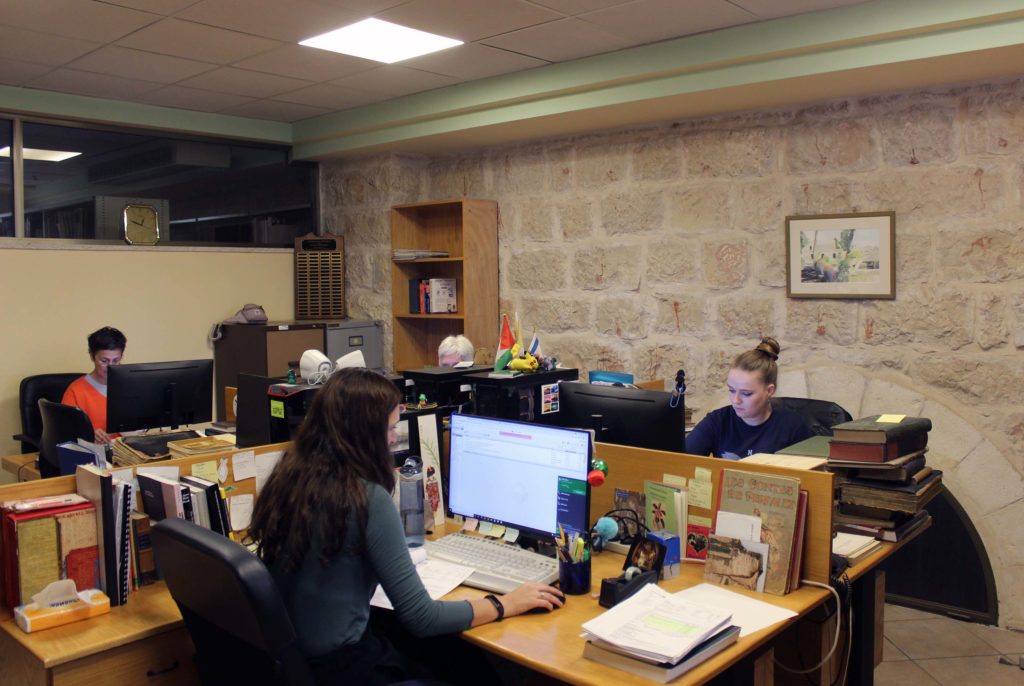 The variety of nationalities of the team members embodies the cultural and intellectual diversity that is present in the library of the School. This internationalisation is particularly interesting from a linguistic point of view, as the team is able to read or speak a dozen languages (Russian, Hungarian, Japanese, Hebrew, Arabic, Biblical Greek, French, English, German, Italian, etc.), which makes it possible to carry out a review of an increasingly large number of works. It is this work of analysing books by chapter, periodicals by article and the Bible by pericope and Bible verse that allows researchers to find precise references by keyword in the catalogue of our library.
Thanks to this team, the library was also able to do an extraordinary job during last year's general inventory. This general physical inventory of the library dealt with all the items in the library of the École Biblique, i.e. more than 200,000 volumes. This work, which lasted seven months, made it possible to list the books in need of repair, to find some lost books, and to reorganise the collections.
The library now hopes to develop the maintenance and computer monitoring of its catalogue.