On Thursday 15 December, Ebaf organised a study day on the Vetus latina, the partial translations of the Bible made by the Church Fathers before the Vulgate of Saint Jerome (end of the 4th century).
The topic chosen for this day was: Divine Election in the Latin Bible.
Introduced by Anthony Giambrone, o.p., vice-director of the Ébaf, who underlined the renewed interest in the versions of the Bible, this day was organised by Kevin Zilverberg (University of St Thomas, St Paul Minnesota), visiting professor at the Ébaf during the first semester of the academic year 2022-2023.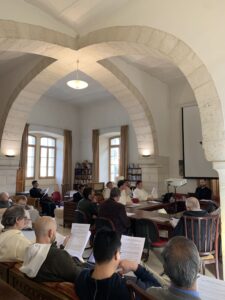 It allowed Ebaf professors and doctoral students to listen to four highly specialised speakers on the subject: José Manuel Cañas Reíllo and Pablo Tiribio Perez, from the Consejo Supérior de Investigaciones Scientificas de Madrid, Lukasz Popko, o.p., an Ebaf professor, and Kevin Zilverberg.
A Christmas concert given by a Palestinian music school in our neighbourhood (Ibda'a school of Arts) brought this day of high scientific level to a pleasant close.