At the invitation of M. Nicolas Grimal, Secretary of the Académie des Inscriptions et Belles-Lettres, Fr. Jean-Jacques Pérennès, Director of the École Biblique et Archéologique of Jerusalem, was invited to present a paper on Friday 17 February 2023, during the weekly session of the Academy, on Fr. Roland de Vaux, whose biography he has just published with the Peeters Editions (Le Père Roland de Vaux, OP. Une biographie).
The presentation, entitled "Father Roland de Vaux, digger of the Bible", was followed by several interventions from the academicians present, who were pleased to recall the contribution of Fr. de Vaux to the work of this Academy, of which he was a member and where he presented and discussed his research on several occasions, in particular the results of the excavations at Qumran for which he was responsible.
The Permanent Secretary, Mr Nicolas Grimal, concluded by underlining the continuing importance of the EBAF for the Academy.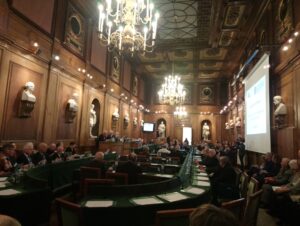 Several members of Roland de Vaux's family were present, who had come to Paris for the occasion, happy to get to know a key figure in their family.