You could not attend the Thursday conference: "A scientific complex at Qumran: the stone disc, the clepsydra and the mismarot" by Friar Augustin TAVARDON, o.c.s.o.
In 1954 Fr. Roland de Vaux found at Qumran in locus 45 what he called "a stone disc". The excavation sheet bears the number 1229. The object is now in the Israel Museum. It is a limestone disc with a diameter of 150 mm. The disc is characterised by a concave surface with concentric circles and grooves and a number of indented and solid marks….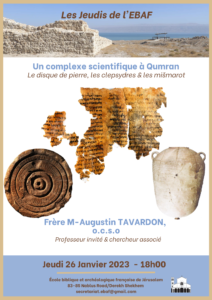 To learn more about this mysterious complex : Replay here.