3rd and last day of this study trip in the Negev desert.
The torrential rains have subsided, much to everyone's relief!
---
The day started at the site of Ein Hatzeva.
This site, identified as the location of the biblical story of Tamar and Jacob, is also a strategic location. The border location, at the crossroads of major ancient roads, was an ideal place to settle. Archaeological excavations have reconstructed a number of fortresses and settlements dating from the Israelite kingdom, the Nabataean period, the Roman period and the early Arab period. The remains of these impressive fortresses bear witness to the importance from the Iron Age until the 8th century.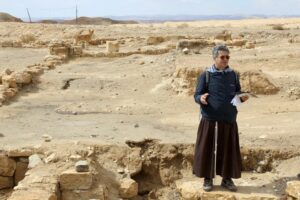 We then climb up to the ancient fortress of Tel Arad, one of the best examples of a typical Bronze Age city. The nature of the soil here allowed the inhabitants to settle first at the foot of the ridge, in the valley, where many remains can be found. A prosperous city, in contact with distant neighbours, was destroyed twice and left in ruins for 1500 years.
The Israelites came to settle in the higher part of the ancient city, on the ridge.
In the 11th century B.C., fortresses were again erected on the ancient ruins. An Israelite temple was also built, in which there is a small Holy of Holies and a sacrificial altar.
From the top, the view is striking, from the mountains of Judea to those of the Negev, easy to understand the strategic and defensive stake of this site.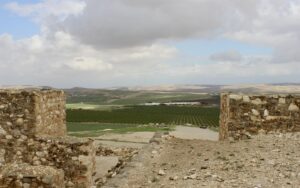 Continuation and end of this day and of this trip to Lakish.
Quoted several times in the biblical accounts, this city located in the plain of Sephala is of notorious importance in many ways. Canaanites, Israelites, Assyrians, Judeans, Persians, Israelites again, many civilizations, kings and warlords have taken over this city on the hilltop, a very valuable geographical location.
When discovering this site, one cannot but be fascinated by the remains of the masterly ramp erected by the Assyrians at the time of their siege in 701 BC. Lachish was for many years the second city of the kingdom of Judah, after Jerusalem. It had a huge fortified palace on top of the hill and a double protective wall.
Back to the École Biblique after these 3 intense days, next trip: to Jordan in April!
The 3rd day in video is here!