Let's keep on looking back at the 3 days in the desert!
For the second day of the trip, the students had the joy of welcoming a surprise guest: a torrential rain. The programme had to be adapted, as some sites were inaccessible for the day.
Mitzpe Ramon first. The weather did not allow for a real discovery, so the students had to satisfy themselves with a viewpoint, through the clouds and the drops. The opportunity nevertheless to be subjugated by the lunar landscape offered by the viewpoints through the mountains of the desert.
A few hours later, we arrived in Timna. The weather prevented a full visit to this beautiful site. The students had the opportunity to discover some caves to shelter from the torrential rains, caves which had small copper deposits in some places.
François-Xavier, a student for the second semester, tells us:
"The rain in the desert is without doubt the image I keep from this second day. In a few minutes, the usually dry wadis were filled with water, carrying sand and stones. The scale was different from the Red Sea crossing, where chariots and riders were overturned, but if the Timna Park preferred to close its doors, it is because the situation could make us fear the worst!
We were still able to climb the famous arch, approach the mushroom and enter a cave in an old copper mine. The rest of the visit is postponed!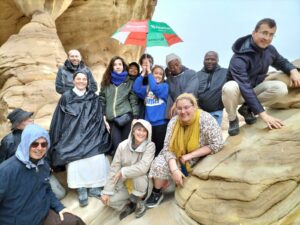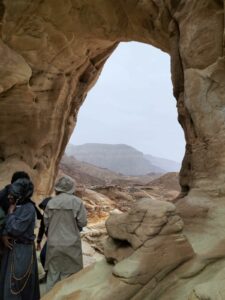 The third site of the day was Avdat, presented by Fabrizio and François-Xavier, students of the EBAF:
"Avdat presents itself as one of the most fascinating archaeological sites. In the middle of the desert, built on a small hill, it is the witness of the richest flowering of the Nabatean civilization in the Negev between the 1st century BC and the 4th century AD. It was a military garrison located at the crossroads of the trade routes leading from the East to the Mediterranean. The acropolis, of which the remains of the ancient walls can still be seen today, had three gates, all leading to a large central square, where there is a small sanctuary dedicated to the apotheosis of the Nabataean king Oboda II.

Around it, several other structures: the Roman quarter, burial sites, a Roman camp and even a pottery workshop. The site went through different phases: after the Nabataean presence, it was reclaimed at the beginning of the 5th century by Christian monks who built two magnificent churches that today present themselves to the visitor as open buildings in the Byzantine style, equipped with an altar, apses, a baptistery and even a small sacristy.
The desert under the rain in video it's here!