For the month of March 2023, we are delighted to bring you the following events:
Pépites from the Bible In Its Traditions :
– March, 22: Dancing the Passion, when choreography meets the Gospel.
8.30 pm – 9.30 pm
By Fr.Olivier-Thomas Venard, o.p.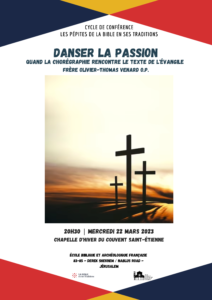 Thursdays of the ÉBAF :
-March, 30: Fasting in the Talmud
6pm – 7pm.
By Fr.Olivier Catel, o.p.
Saturday visits :
Saturday 11 March: Visit of Arad, Mamshit & Beersheva (open to the general public living in & visiting the Holy Land).
Information & Registration: lesvisitesdusamedi@gmail.com
Saturday 18 March: Visit of Lakish & Tel Marésha.