The years here at the Ecole Biblique are not exactly the same.
This year, we are fortunate to have among us a doctoral researcher specialising in the Achaemenid Persian Empire, as well as a librarian with a passion for Iran and the Persian Empire.
Together, they organised a Nowruz evening, to celebrate the Iranian New Year!
On the day of the spring equinox, between the 20th and 21st of March, Iranians celebrate the new year of their solar calendar.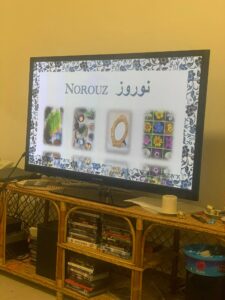 This celebration, which has its roots in Zoroastrianism, is based on the solar calendar. It is one of the important symbols of the specificity of the Iranian world, dating back to antiquity.
Called Norouz, which means new day, this festival celebrates the return of fine days and the awakening of nature. It is, of course, a reminder of the importance of the link between man and his environment.
In Iran, and more widely in the Persian Empire, Nowruz festivities begin several days before: legume seeds are germinated to celebrate nature, and a table is set up with seven objects beginning with the letter 's'. Not forgetting Sharshanbe Suri, the fire ceremony, where participants jump over the fire in a purification process.
Iranians all over the world still commemorate this festival today. A festival that survived both the Islamic conquest of Persia in the 7th century and the decline of Zoroastrianism.
Mitchka and Thomas presented us together the history, the origins, the customs of this festival and more widely of a whole civilisation! Thank you, and Norouz Mobarak!