A few days ago, the school welcomed representatives and teachers of the Réseau Barnabé, who were in the Holy Land to visit different schools in Jerusalem, Bethlehem and Tel Aviv. This was an opportunity to discuss the link between this network and the École Biblique, and to find out more about their projects and commitments throughout the Middle East.
---
What is the Réseau Barnabé ?
Born at the end of 2006 in response to a call from the Counsellor for Cooperation and Cultural Action of the French Consulate General in Jerusalem, it is a network that helps to promote exchanges with Christian schools, the main vectors of the French language, and to strengthen the educational tradition of the schools in the Holy Land.
This network appears as a witness of the commitment of Christians to the French-speaking world in the Middle East.
In this context, the mission of these establishments within the network is exclusively educational, especially education for peace. This involves discovering the other, faithful commitment, self-questioning and the search for unity.
Today, this represents 30 schools in Israel and the Palestinian Territories and 7,000 Catholic schools in France.
The link with École Biblique was forged later. A few years ago, the network's coordination team was enthusiastic about the exhibition of photos from the photo library at the Town Hall of the 5th arrondissement.
Fr.Jean-Michel de Tarragon,o.p. then agreed that his photos could be reorganised by being presented at the Direction de l'Enseignement catholique in Paris.
In 2019, new unpublished photographs were presented, from a different angle (link to the exhibition)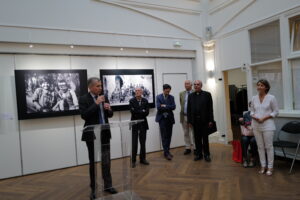 Beyond the photographic collection of the photo library: "The École Biblique is a must for any teacher, student, who goes to Jerusalem. When we can, we take the groups we come with to attend a service or Sunday Mass," says Alice de Rambuteau, network coordinator and public relations officer at the Direction de l'Enseignement Catholique de Paris.
A next pedagogical trip is already planned for the end of April.
To find out more about the Réseau Barnabé.