From 26 to 28 March, the Graduate Symposium of the European Academy of Biblical Studies was held at the Albright Institute.
---
Organised by and for students (mainly doctoral and post-doctoral students), this symposium was an opportunity to build relationships around common research themes.
Each student was able to present his or her work to colleagues engaged in the same field, and thus obtain support and possible suggestions and advice.
Fabrizio Marcello, a doctoral student at the School, was one of the speakers, as was Camilla Recalcati, a doctoral student at UCLouvain and a first-semester fellow at the School.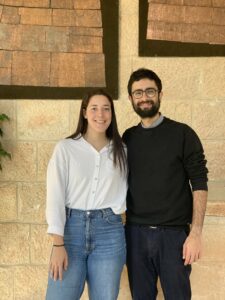 "Camilla presented an aspect of her work: the Egyptian influences on some translations of the Greek Bible (LXX) in Genesis and Exodus. For my part, I presented a small paper on hereditary conflicts between siblings in the Egyptian papyri and the Gospel of Luke. The turnout for the event was great, I didn't expect so many people!
Over three days, in two separate rooms, we participated in half-hour lectures. After the initial presentation, the debate opened up to questions, reactions and discussions, sometimes very animated.
L'École Biblique also took part in this event: "During the conference, seeing so many young people interested in an academic study of the Bible, the idea came to me to show them what is done at the École Biblique" In discussion with the director, Fr Jean-Jacques, a visit was organised, led by some of the brothers, to welcome some thirty students from at least seven different languages.
"The church and its Byzantine mosaics, the tombs in the garden where the greatest Dominican professors are buried, the convent, the famous library, the epigraphy room, the photo library. In two hours, it was a tour de force which perhaps gave some of us the desire to come back in the future…".