Holy Week has just ended in Jerusalem. Since Holy Thursday, Christians in the Holy Land and throughout the world had entered the Easter Triduum.
The Easter Triduum had a special flavour this year for the listeners of RCF and Radio Notre Dame, as they had the chance to experience these days live from the École Biblique, in the heart of the holy city.
The programme was rich and exciting, with a mix of services, meetings, interviews and reports.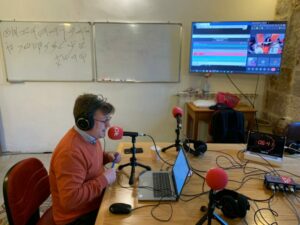 It is an opportunity to hear the testimonies of the Dominican friars who live here in this city and this place which are so stimulating, and sometimes also overwhelming. But also to discover more deeply the history of the Qumran manuscripts with Friar Jean-Baptiste Humbert, or to come back to the famous Jerusalem Bible, with Friar Olivier-Thomas Venard.
Of course, the RCF teams also visited the famous library of the ÉBAF, directed by Friar Bernard Ntamak, or the BEST laboratory, La Bible En Ses Traditions, a vast project!
All the services were broadcast live and commented by Father Sébastien Antoni to better understand the liturgical meaning.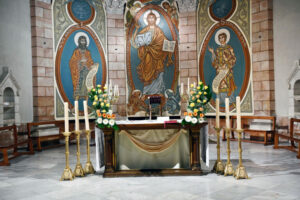 Friar Jean-Jacques Pérennès concluded with these words: "Dear listeners, we are joining you in the stories of lives which are not always simple. I would like to say that the community of the Dominicans of Jerusalem continues this adventure of prayer with you, even if the RCF team is no longer here".
All the programmes can be found here: Holy Week live from Jerusalem on RCF.
The summary of these holy days in video: