From the time of the first Dominican friars who came to discover the East and this majestic country, to this Holy Thursday in 2023, Radio Chrétienne Francophone offers you a journey through time, accompanied by Friars Jean-Jacques, Anthony, Martin and Lukasz.
---
Several subjects are being discussed in this round table.
How to position oneself between the life of a religious and the life of a researcher? How does the spirit of adventure which was the essence of this institution in its beginnings mix with the community life of the Dominicans which is based on prayer?
Father Lagrange used to say that here he was constantly going "from the oratory to the laboratory", as Friar Jean-Jacques Pérennès confirms: "our intellectual research is never disconnected from our spiritual life.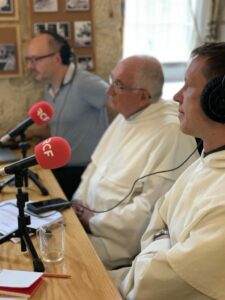 The school has changed a lot since then, new disciplines have appeared! Of course, the discovery of Qumran and the upheaval that followed had a profound effect on the school. Father de Vaux, director of the school at the time, was sent by the Jordanian Antiquities Authority to direct the excavations from 1949. This marked a major turning point in the life of the school, the convent, and more broadly in archaeological research.
Today, the profile of the students and researchers has become very varied.
Traditionally, only religious people came here! But today, the director has reason to be pleased:
"We have young secular men and women who come from all over the world, to study languages, archaeology and site visits, to work with specialists. This allows us to put into practice the reality of the universal Church.
As for tomorrow, the number 1 issue is to ensure the school's continuity. The mission remains the same, of course. The dialogue between scientific exegesis and biblical research, as well as the dialogue between the Catholic institution and the world around it !
Replay of the round table on RCF here.