The walls of the École are sometimes used as a setting for video shoots. In the last few days, the teams of TheoDom and Advent in the City have come to set down their bags for a few days.
---
TheoDom, Avent dans la ville, Retraite dans la ville, and Theobulle are part of the range of offers created by the Dominicans to allow everyone to develop their faith and spiritual reflection in a way that is adapted to everyone.
TheoDom first of all. On this platform you will find hundreds of videos in which Dominican friars, but also sisters and lay people, intervene. Each major theme, such as Evil, Baptism or Ecology, is dealt with in about ten videos, and sometimes accompanied by a quiz to make learning fun and lively.
Because when we ask Friar Emmanuel Dumont, head of Theodom, what does learning theology mean? He replies, "It's not just learning basic content, but trying to make it come alive in a concrete way and to make one's reflection work in real life."
The reason for the presence of the film crews here at the École Biblique is this: the next topic is "The Incarnation". And so, of course, what better place than the Holy Land to talk about it? In front of the camera, friars of the ebaf, but also a Franciscan and a Benedictine woman approach this question from different angles.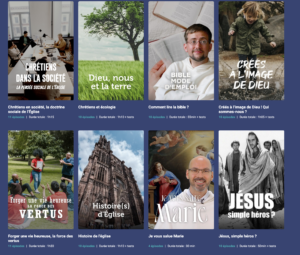 Friar Emmanuel describes in a few words: "One can see TheoDom as a kind of Mooc for people in a hurry. The aim is to help young people to form themselves in theology, in a serious way, without entering into a sometimes heavy and long process that can be discouraging."
Another proposal, another shoot: Advent in the city. This offer has existed for 4 years, and has diversified the offer that existed with its "big sister": Carême dans la ville. To mark the anniversary of these two projects, it was necessary to come to the Holy Land to follow in the footsteps of Christ.
Friar Emmanuel discovered the convent of St. Stephen in Jerusalem for the first time. And for him, the professional experience is just as important and significant as the personal one: "It is an exciting place. I am struck by the incredible intellectual friendships that develop within these walls, by the fraternity between the students who share a few months of their lives. But also by the international community that my Dominican brothers represent. They build and live a common life together, each one bringing his stone to the edifice because of his difference and his culture. As far as Jerusalem is concerned, seeing the Holy City in the middle of the Easter season is a living thermometer of Christianity throughout the world, and it allows us to reflect on the place we occupy."
See you in December 2023 to discover the new episodes !