You have before you a collection of selected works by the Dominican painter and missionary Hyacinthe Besson (1816-1861).Ordained a priest in 1843, Fr Besson joined the Dominican order in 1845.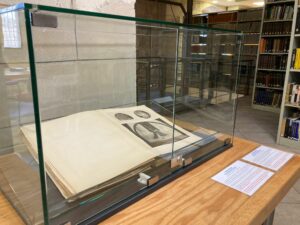 He directed and founded several monasteries in Corsica, Lyon and Rome before being sent to Mar Yacoub in Iraq in 1858. It was there that he died of typhoid fever at the age of 45.
Hailed for his great piety and dedication as well as his undeniable artistic genius, Fr Besson is remembered as "the first Christian painter of his time".
This tribute, produced by the RR. FRS. Berthier and Vallée, includes some of the works of the eminent painter, a disciple of François Souchon and Paul Delaroche. In this volume, printed in only 500 copies, we find selected works illustrating the life and passion of Christ, the Virgin Mary, the life of Saint Dominic, etc.
Here you can admire a reproduction of a fresco depicting The Kiss of St. Francis and St. Dominic done in the chapter house of the Basilica of St. Sixtus in Rome (San Sisto), where he lived from 1853 to 1855 before leaving for Iraq. His decoration remained unfinished.
L'œuvre artistique du R. P. Besson, publié par les Pères Berthier et Vallée. Paris : Lethielleux : André Marty, Kain : Le Saulchoir, 1909.