For the academic year 2022-2023, the École Biblique has welcomed two scholarship students from the Académie des Inscriptions et des Belles Lettres. Sarah Valiarisoa NDRIASY, a master's student at the Protestant theology faculty in Strasbourg, is about to return to France. Before packing her bags, she looks back on the past year with us.
---
Sarah came to study at the École Biblique on the following topic: "Nicodemus and Pilate: convergence and divergence".
Initiated in 2020, she is expected to obtain her master's degree in Protestant Theology in July 2023. The geographical location of the School gives a sense of proximity to the places where the events of her subject take place: a favourable asset for reading the Texts in their context.
Among the many courses she took to complete her year, the Archaeology and Topography course, taught by Friar Yunus Demirci, featured prominently in her timetable. She describes it as a key discovery of her experience. Indeed, even if archaeology is not her initial training, it is essential in biblical studies.
"Archaeology gives a practical context for the New Testament, how the people of Judea lived in the first century AD, including the layout of the urban landscape. And seeing and touching the archaeological material (measuring weights, numismatics, domestic utensils) gives an account of the practicality of life at that time.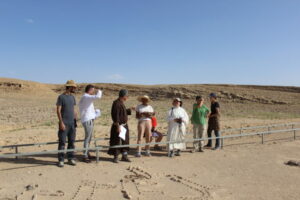 "Furthermore, I was particularly impressed by the desert. Indeed, there is a big difference between conceiving this environment through the biblical passages and walking in it and experiencing the roughness of the terrain. The words of the psalmist have inhabited me in a different way."
Of course, a year like this is also lived outside the school, in the streets of the thrice-holy city. "No one comes away unscathed from a life experience in a place where the religious and the sacred punctuate everyone's daily life."
Strolling through the old city allows you to be immersed in the heart of the 3 religions in a few minutes. The Easter period was, for Sarah, the most striking. Going from the Garden of Gethsemane to the Holy Sepulchre, meeting Muslim worshippers who have just broken their fast, passing by the kotel where the Jewish worshippers meet for Pesach, to arrive in the Christian quarter in the middle of Holy Week. What a journey, what an adventure!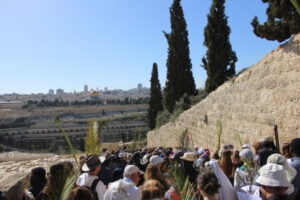 "And at the same time, once you leave the walls of the old city, you feel as if you have been propelled to Europe in the modern city of Jerusalem. All this mixture is exceptional and sometimes confusing…".
From her stay here, she will remember the quality of the exchanges with the professors and specialists with whom she spent several months.
The joy of walking through the doors of the library for a few hours, and sometimes even for a night, absorbed in a fascinating book!
And above all, the friendships she was able to forge with the students, volunteers and staff of the School.