At the end of April, the students had the chance to go on a study trip to Jordan. They have just returned from this beautiful adventure, they testify!
The programme was dense: the first day passed quickly, between the long journey from Jerusalem to Aqaba, the visit of the ruins of the old primitive church of Aqaba, then the dive in the desert of Wadi rum, successful immersion for our travellers!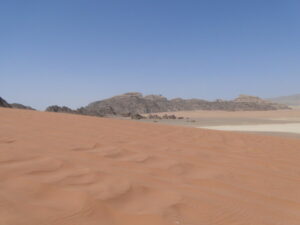 On the second day, the students had been waiting for a visit: Petra ! Sister Raphaël was full of praise for what she discovered there:
"I had wanted to keep the effect of surprise as complete as possible, so I hadn't asked about the site and what we would see there. I was blown away when I came across the treasure! It's simply sumptuous! The glorious remains of the Nabatean era are breathtaking!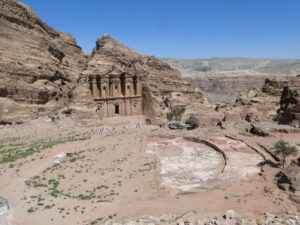 Third day, discovery of the castle of Shobak, its churches, its secret passage leading to a spring, its watchtower, its catacombs… Then the Roman fort of Ksar el Bashir and finally the site of Umm Ar Rasas, with its exceptional and perfectly preserved mosaics.
The trip could not be completed without a visit to the city of Madaba, to admire the famous mosaic map of Madaba in the orthodox church of Saint George!
On Thursday, let's visit Mukawir, this ancient fortress meaning black fortress ( Machaerus), linked to the story of Salome dancing for Herod Antipas, where John the Baptist will be imprisoned and executed. Then Mount Nebo and its splendid view of the Holy Land!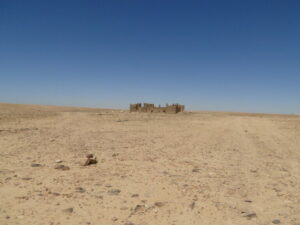 This trip ended with the citadel of Amman, its Roman theatre, the Umayyad palace, and of course the impressive Jerash! For Sarah, a student in Protestant theology in Strasbourg, and a scholarship holder of the AIBL, Jerash is a favorite!
"To be in the middle of the monumental roads, the cardo and these immense alleys, marked out by columns is impressive! The immensity and the extent of the site, which is so well preserved, help us to project ourselves into the history of this imperial centre and we can very well imagine the way the Romans lived.
The final word to Léanaya, a student in Master 2 of Archaeology at the Panthéon Sorbonne University:
What an experience! This trip made us discover extraordinary landscapes, from the uninhabited desert to the pink sandstone mountains of Petra, from large archaeological sites to small isolated fortresses. In one week, we were able to travel through history, from the Nabataeans to the Crusaders, through the sumptuous remains.
Thanks to our guide Anas, but also to Yunus and all those who shared their knowledge during this stay to make it an unforgettable memory!