Mitchka Shahryari has been selected by the Académie des Inscriptions et Belles Lettres to spend an academic year at the EBAF, as part of her thesis on the following subject: "Research into the Persian institutional landscape in Achaemenid Transeuphratene: the Aramaic ostraca of Idumaea".
Starting in 2019, she should complete her thesis during 2024. Here's a look back over the last few months:
---
The geographical area of Transeuphratene corresponds to part of the Levant, which includes parts of Syria, Lebanon, Jordan, Israel and Palestine. So it was a logical step for this keen student to set down her bags in Jerusalem.
Mitchka remembers many things about this experience: "This year here has really enabled me to work intensively on my research in a setting that is particularly conducive to great progress. I enjoyed meeting the leading researchers in my field within the walls of the school, the library, as well as the topography courses to contextualise my subject and visit the archaeological sites in my corpus.
The latter enabled me to get to grips with the country, to discover it through its history and archaeology, and to become aware of space. I was also able to meet specialists from outside the school, through conferences and symposiums".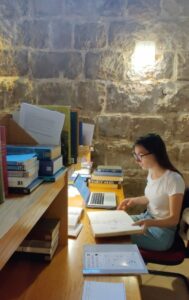 If you take a quick look back at her year, you'd be impressed!
As a candidate in the "3minutes Pitch" competition organised by SGroup Network, a competition aimed at doctoral students on an international scale, she won first prize in October 2022 in Portugal (link to the competition replay).
The aim of the competition is to present your thesis topic to a non-specialist audience in 3 minutes flat and in English, of course! A great performance.
We headed to Egypt in November for a session studying material from the Tell El-Herr site (post-excavation studies), under the supervision of Catherine Defernez. Then off to Haifa in December 2022 as an auditor at the symposium 'Yahwism under the Achaemenid empire' organised by Gad Barnéa.
She will round off her year of study in style with a lecture organised as part of the EBAF Thursdays, in which she will present her thesis topic and methodology to an audience of around thirty people (replay of the lecture).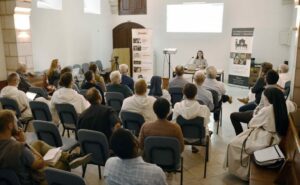 Studying in Jerusalem has also enabled Mitchka to visit many museums and, above all, to have access to the pieces in her corpus:
"I would like to thank the Bible Land Museum in Jerusalem and the Hecht Museum in Haifa for giving me access to their collections. Having access to this material is an incredible opportunity.
As well as the professional experience, it was also a rich human experience: "I'll always remember the moments of sharing, the discussions at the table with different people every day, a very strong spirit of solidarity this year, thanks to the beautiful people and the wonderful moments shared.
My intense personal work sessions were punctuated by times for meeting and exchanging ideas, whether at meals or over tea with fellow researchers. It's a great way to keep the conversation going in a stimulating and friendly atmosphere."