The new ÉBAF students and volunteers for the 2023-2024 academic year prepared for their new school year by walking in the footsteps of Saint Jerome. On Saturday, two days before the start of the new academic year at ÉBAF, they walked from Jerusalem to Bethlehem! A ten-kilometre walk to place themselves under the patronage of Saint Jerome, and prepare to delve deeper into the mysteries of the Bible in the town where he spent the last 30 years of his life.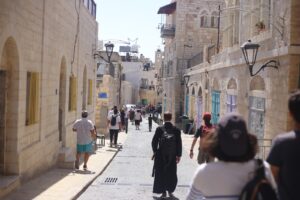 The procession left Jerusalem on Saturday morning and headed for the centre of Bethlehem for lunch, before visiting the site and celebrating mass in the grotto of Saint Jerome, located beneath the Basilica of the Nativity.
Jerome of Stridon (347-30 September 420) was chosen by Pope Damasus I to translate the Gospels into Latin, while remaining as close as possible to the Greek and Hebrew texts.
The Vulgate, composed mainly of his translations – supplemented by pieces of the Vetus Latina – was the first text printed in Europe by Gutenberg.
Jerome is considered one of the four Latin Fathers of the Church, a Doctor of the Church. The Vulgate was authoritative in the Catholic Church until 1979, when the Neo-Vulgate was published under John Paul II.